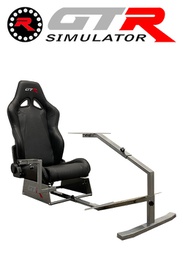 GTR Simulator Touring Model Simulator with Silver Frame and Adjustable Leatherette Racing Seat - Black
109.900

 K.D.
109.900

 K.D.
Brains, with beauty-it's a driving experience unlike any other. GTR Racing Simulator Touring Model
The Touring Simulator gives you the comfort and feel of a production sports car. Its wider seat bottom and more upright driving position allow for longer drive times from the civilized position of a high-performance street car. Its top-quality materials and construction match the high-end sports car feel. If you want to replicate the experience of taking a Ferrari out on a track day, or canyon blasting in a Mitsubishi Evo, this is your seat.
Like a true sports car, the Touring Simulator is set-up for spirited driving. The steering wheel's mounting bar is located in front of the racing pedals, ensuring the driver is free of obstruction when operating the gas and brake pedals. Whether left-foot braking or heel-and-toe downshifting, there is no metal bar in the way as the driver moves from accelereator to brake pedal and back – a common obstacle in many game seats. The steering wheel is mounted low for better visibility on both the straights and the curves. Also available are an optional gear shifter mount for a ride you should expect only from an arcade machine.
Precision
Uniform body panel gaps are shorthand for outstanding build quality and precision. The tighter and more uniform the gaps, the more precise the overall design and manufacturing process. The Touring Simulator, as with all GTR racing simulators, has some of the narrowest and most uniform panel gaps in the industry.
It's a performance racing simulator disguised as a luxury driving machine. And vice-versa.
Professional testing mimics situations where the driver may have to swerve suddenly to avoid an obstacle or a possible collision. Unlike competitors, the GTRSeat Touring simulator offers the driver the stability they need, without vibration, without the shaky feeling, to confidently apply the instant inputs required in performance driving.
Real Life Testing
The Touring Simulator is whatever you want it to be-a performance simulator that gets your adrenaline pumping like a performance car, or a luxury sedan that pampers you as you move swiftly through your favorite mountain road.



*Steering Wheel, Shifter, and pedals are not included
Specifications:


Length: 42-56 inches

Steering heights: 24-27 inches

Total heights: 42 inches

Width: 23 inches

Gross Weight: 26 kg

Frame Material: Alloy Steel

Seat Material: Steel, Cloth

Seat Bracket Material: Alloy Steel

Table Material: Alloy Steel

Standard Equipment:




Adjustable Bucket Racing Seat

Touring Single Seat Slider

Adjustable Steering Wheel Plate

Adjustable Frame Length

To install this Web App in your iPhone/iPad press
and then Add to Home Screen.