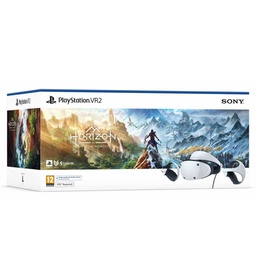 PlayStation VR2 Horizon Call of the Mountain bundle
203.000

 K.D.
203.000

 K.D.
about The Item
---
Display method: OLED
Panel resolution: 2000 x 2040 per eye
Panel refresh rate: 90Hz, 120Hz
Lens separation: Adjustable
Field of View: Approx. 110 degrees
Sensors: Motion sensor: Six-axis motion sensing system (three-axis gyroscope, three-axis accelerometer) / Attachment sensor: IR proximity sensor
Cameras: 4 embedded cameras for headset and controller tracking / IR camera for eye tracking per eye
Feedback: Vibration on headset
Communication with PS5: USB Type-C®
Audio: Input: Built-in microphone / Output: Stereo headphone jack
VR2 Sense controller

Interact with virtual worlds in amazing new ways with haptic feedback, adaptive triggers, precision tracking and finger touch detection - all integrated into a unique ergonomic design.

Haptic feedback

Feel realistic, detailed responses to your in-game actions. From subtle, precise vibrations to intense pulses, a vast range of sensations in the game world can be delivered to your hands, letting you experience PS VR2 games in an incredibly tactile new way.

Adaptive triggers

Feel the tension in your bowstring, the sudden kick of a weapon jam or an object crumple as you crush it in your hands with adaptive triggers that add dynamic resistance in each controller.

Finger touch detection

Reach out and touch the virtual world around you with controllers that detect the placement of your fingers - even when you're not pressing a button.